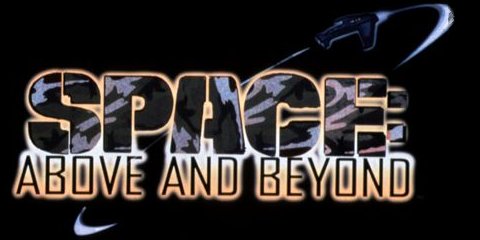 Updated 30 Jan 2004
No portion of this Web site may be taken and used elsewhere on the Web without the permission of the Webmaster.
| | | | |
| --- | --- | --- | --- |
| | Earth Forces Craft | | |
The craft in Space: Above and Beyond are varied and cleverly designed to serve specific functions within the service.
U.S.S. Saratoga
The U.S.S. Saratoga is an SCVN (Space Carrier Vehicle Nuclear) of the John F. Kennedy Class, registry number SCVN-2812.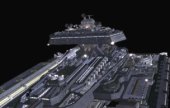 It is the space-equivalent of a U.S. Naval aircraft carrier and serves as the base of operations for the 58th and a number of other squadrons. Its armament includes laser pulse cannons, phalanx missile launchers, and torpedo launchers. Not capable of atmospheric flight, the vessel is powered by a helium 3 fusion engine and measures 525.6 m (1.724 ft) in length, 245.1 m (804 ft) in the beam, and 185.4 m (608 ft) high. The U.S.S. Saratoga is commanded by Commodore Glen Ross.
Hammerheads
The primary fighter craft of Earth forces is the SA-43 Endo/Exo-Atmospheric Attack Jet, commonly called the "Hammerhead" because of its nose, which resembles that of a hammerhead shark. Its weaponry includes rail guns plus mounted missiles or bombs. It features a LIDAR (Laser Infrared Detection And Ranging) scanner that can track and engage 100 separate targets,
plus an autopilot unit known as an "egghead" that pilots can turn to for long range routine flight or for moments when they cannot handle the flight controls themselves. Pilots can also use a holographic heads-up display (HUD) for combat intelligence and an optical disc playback unit (ODP) for mission data records. Capable of both space and atmospheric flight, these craft are highly maneuverable with detachable cockpit units that facilitate docking with space platforms and serve as ejection capsules. A single-person craft, Hammerheads dock in specially designed bays on the SCVN. The Hammerhead is often used by the 58th during sorties and other skirmishes.
ISSCV, ISSAPC
The ISSCV (Inter Solar System Cargo Vessel) is a configurable space craft to which various types of modules can be attached, depending on the needs of the mission. These modules can carry troops, transport cargo, conduct evacuations, and even serve as mobile command centers. For extended operations, the APC module can be left planetside while the
transport moves to a safe orbit. The onboard electronics include a flight computer, LIDAR, EM detectors, and a gravimetric mass detector. The vessel is capable of both space and atmospheric flight, and its cockpit accommodates both a pilot and a co-pilot. The ISSAPC (Inter Solar System Armored Personnel Carrier) is essentially an armed ISSCV. Armaments include pulse lasers plus a gauss gun in the module itself. Transport vessels such as the ISSCV touch down on landing pads on the SCVN.
Videos
| | | | | |
| --- | --- | --- | --- | --- |
| | Morgan and Wong talk about the Hammerhead | | Morgan and Wong talk about the Hammerhead cockpit | |
| | Hammerheads return to the Saratoga | | Hammerheads in formation | |
| | Hammerheads and ISSAPC launch from the Saratoga | | ISSAPC lands on the Saratoga | |